The House in the Cemetery (7 episodes)
If you've ever taken a walk around The Woodlands and wondered why there was a house in the cemetery, you're not alone. Before it became a cemetery in 1840, The Woodlands was home to William Hamilton (1745-1813), his extended family, and a number of workers who made the estate an architectural and botanical showpiece of early America. This podcast series explores their lives in the decades before and after the American Revolution.
The House in the Cemetery gives listeners a look at the written documents, objects, and architecture that give us insight into the history of The Woodlands. It also uses up-to-date historical scholarship to explain what these histories of The Woodlands can tell us about the past more broadly.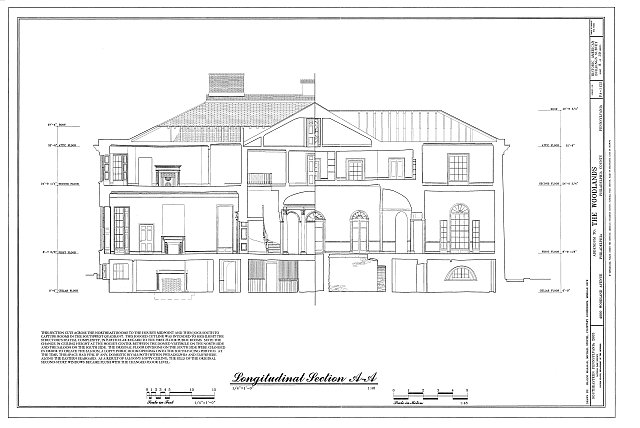 Episodes
Each episode is between 30 and 40 minutes long and includes a segment called Primary Exposure, which gives listeners a close look at how historians analyze a particular type of evidence. You don't need to listen to the whole series in order to gain a new perspective of The Woodlands. Each episode stands alone, so feel free to skip around to explore your interests.
Episode 1: How did the Woodlands estate come to be in the first place? Hamilton family patriarchs participated in, and benefited from, the colonization of indigenous lands. But they also consolidated landed wealth from the women in their lives. Find out more from Madison Bastress in Property and the Limits of Patriarchy.

Episode 2: William Hamilton fawned over his favorite niece, Ann. What happened when she spurned his advice and married James Lyle? Jubilee Marshall explains in "My Dear Ann:" Class, Gender, and Family in the Life of Ann Hamilton Lyle.
Episode 3: When he died in 1812, George Hilton likely considered the Woodlands to be his home as much as William Hamilton. After all, he had lived and worked there nearly his whole life, first as an indentured laborer and later as a free man. Vicrim Chima explores the life of George Hilton and the ways we can learn about black lives along the Schuylkill in Terms of Freedom: The African-American Experience at the Woodlands (1740-1815).
Episode 4: In the 1780s, William Hamilton overhauled The Woodlands in the style of a British country estate. He relied on John Child to build the mansion of his dreams. Learn about Child's work and the life of a revolutionary-era general contractor from William Christman in Master of his Craft: John Child and the Construction of the Woodlands.

Episode 5: You might know that William Hamilton loved to collect and study plants. But did you know that he played a role in the Lewis and Clark expedition? Tom Snow tells the story of how U.S. botanists used knowledge of plants to develop power over land in Imperial Botany: Lewis and Clark and The Woodlands.

Episode 6: What elements of the eighteenth-century landscape can we still see today? How do these features help us to understand the lives of past residents? Sarah Marcinik explains in Landscapes of Leisure and Labor.

Episode 7: How has recent archaeology helped us understand more not only about William Hamilton's design of the Woodlands estate but also more about the lives of domestic servants? Alex Balawejder gives one historian's take in Buttons, Porcelain, and Anglophilia: Archaeology from the Woodlands.
Bonus Minicast: In this short bonus episode, Jubilee Marshall and Madison Bastress discuss their experiences in making the podcast. Listen here.
Feedback
Whether you listen to 1 or 7, we look forward to seeing you at our event, "Tales from The Woodlands Archives" on Wednesday, April 25, from 5:30-7:30pm. The event is informal, so feel free to come late or leave early. Students will host a 30-minute roundtable to discuss their experiences producing the podcasts series as a class. After, visitors will be able to speak with students individually about specific episodes and see some of the architectural features and archaeological artifacts discussed in the podcasts.
There will be a limited number of listening stations available to listen to podcasts onsite, and visitors can use their own mobile devices (and data; no wifi!) to listen to an episode while they enjoy the grounds. Advance listening is highly encouraged. These podcasts will continue to be available online after the event.
We also will have a table at the Go West! Craft Fest at the Woodlands on Fri., Apr. 28. We hope you'll stop by and chat!
Thanks
The House in the Cemetery is researched, written, and produced by History graduate students at Villanova University under the direction of Dr. Whitney Martinko. They wish to thank a number of project supporters. Dr. Liz Covart, host of Ben Franklin's World and Digital Projects Editor for the Omohundro Institute of Early American History and Culture, shared her expertise in podcasting history during a class visit and campus lecture. The Omohundro Institute and the Department of History at Villanova University supported Dr. Covart's visit to campus. The Lepage Center for History in the Public Interest also supported Dr. Covart's lecture and lent a microphone for some recordings.
Our soundtrack features "Aisling" written by Lily Honigberg, performed by Lily Honigberg, fiddle, Utsav Lal, piano, and Jonathan Starks, drums. Thanks to these artists for permission to use their music for this project.